FRIDAY
HARBOR
ELEMENTARY
Developing Leaders Who SOAR!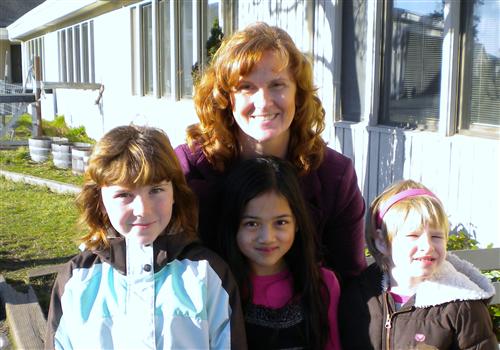 To laugh often and love much; to win the respect of intelligent persons and the affection of children; to earn the approbation of honest citizens and endure the betrayal of false friends; to appreciate beauty; to find the best in others; to give of one's self; to leave the world a bit better, whether by a healthy child, a garden patch or a redeemed social condition; to have played and laughed with enthusiasm and sung with exultation; to know even one life has breathed easier because you have lived—this is to have succeeded.
~ Ralph Waldo Emerson
Welcome to Friday Harbor Elementary's website. I encourage you to spend some time soaring through our site and discover all the amazing resources our school has to offer the students, staff, families, and community
of Friday Harbor, located in the beautiful San Juan Islands in Washington State.
Friday Harbor Elementary School's mission is dedicated to excellence and student achievement. We know that in order to prepare our students for the 21st century, we must teach them the skills necessary to succeed in a world that is continually changing. The Friday Harbor Elementary community envisions a school that instills: a love of learning; nurtures creativity, imagination, and personal responsibility; encourages empathy and a collaborative spirit; and provides each individual with skills and knowledge to succeed in school and in life.
Friday Harbor Elementary School is a child centered community. Teachers and staff at Friday Harbor Elementary work hard to provide the best educational experience for our students. Parent partnerships are a top priority and are essential for student success. Friday Harbor Elementary School has a rich tradition of outstanding student achievement and provides a sound, standards-based education, while promoting high moral character of all students.
We begin by teaching "Developing Leaders Who SOAR." At Friday Harbor Elementary it is important to us to create a community in which our students can grow up to be peaceful, kind, responsible citizens. So we dedicate ourselves to programs such as The Leader in Me, Kelso's Choices, Second Step, Step to Respect, and Life Skills. We believe these programs help us teach the social and emotional skills that help our children stay safe, manage their emotions, solve problems, avoid risky behavior, and thus, improve their academics.
Throughout the year, we invite parents into the school to view and celebrate the outstanding work being done by our students. Along with classroom celebrations and performances, we hold a Meet and Great, a School-wide Open House, a Title 1 Open House, I Love to Read Month, I Love Math Month, Grade Level Math Nights, Egypt Day, Geography and Spelling Bee, and a Science Fair. Due to our beautiful location our students get to enjoy many outreach opportunities such as; Friday Harbor Outreach Program Sponsored by the University of Washington Science Labs, a trip to the Salmon Hatchery on Orcas Island, and our 6th graders attend Mountain School in the North Cascades for three days in October.
Our PTA sponsors many events such as PTA Socials, The Book Fair, The Community Breakfast, and A Works of the "Heart" Dinner and Auction. This priceless partnership between the PTA and the school provides a supportive learning environment that is unforgettable for our students.
Parents and community members from the San Juan Island dedicate hundreds of hours each year, serving as volunteers, guest speakers and committee members, helping in the classrooms and chaperoning field trips. They are on hand in our school every day and are vital to the success of our programs for students. Room parents organize classroom celebrations and volunteers work with individual students where ever needed. Art docents keep art alive and well at Friday Harbor Elementary School and provide many enrichment opportunities for our students.
This website is a valuable resource for the school community and I hope you SOAR through our website on a regular basis as well as participate in the educational process of your children. Strong school board and administrative leadership, excellent teachers and staff, positive parental involvement and community support enables all students to reach high academic standards.
We are proud of our school and are pleased to share our work with you. Thank you for your visit.
Here's to the Year of the Leader!
~Connie