FHMS Students Go to Mountain School
Every Fall, our 6th-grade students head up into the Cascades to go to Mountain School at the North Cascades Institute.
This year our sixth-grade class was joined by three teachers, nine parent chaperones, park rangers, Mountain School Staff, and graduate students from WWU.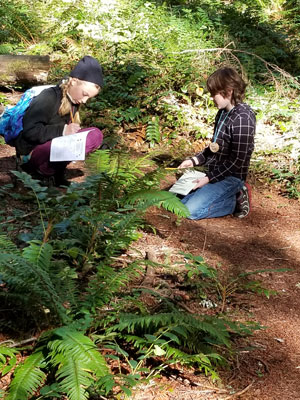 Mountain School is a nationally recognized environmental education program. During this experience, students spend most of their time hiking on trails and exploring the watersheds, forests, plants, and wildlife of the North Cascades ecosystems first-hand through interdisciplinary activities in science, math, art, social studies, and conservation. Our students increased their environmental awareness and stewardship and had the opportunity to learn and bond as a cohort in a very authentic and powerful way.
We are so lucky to provide our students with this annual trip.
From a student: I learned so much science at Mountain School, such as what a producer, consumer, and decomposer are, the web of life, how to identify some plants and trees, and about different animals that live in the North Cascades. I also learned the history of the area and how important it is to care for our environment and for humans to "Leave No Trace." I had multiple memorable moments, such as the hike up to the beautiful waterfall, the Diablo Dam, Diablo Lake, and spending time with my trail group. I wish I could go again next year, it was amazing!
---