Supporting Excellence At FHES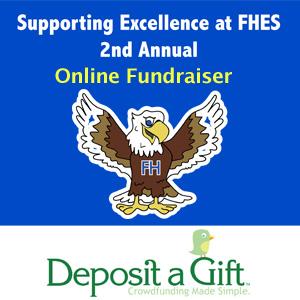 Last year's campaign was so successful, we decided to do it again. We are saying goodbye to the traditional catalog sales. By taking advantage of this platform, we yield a much higher percentage than traditional catalog sales.

With over 400 students in K-6 and 29 teachers that help create a positive learning environment for their students, our FHES PTO has a huge responsibility to help fill the gaps created by the lack of funding for education in our state.

Supporting Excellence at FHES is something anyone can get behind. We are asking for your help to fund a need with your tax-deductible donation. Your dollars will go directly to fund current needs at FHES and support our students and their teachers in the classroom. Donations will help provide busing for field trips for all students, playground equipment, a Pie Booth remodel and many other things that help build a stronger school community and showcase a love for learning, no matter how old you are.

Please donate now and pass this link on so that others can, too. Our kids are so lucky to live on this amazing island and do the things they get to do at our incredible school, but it is the community we live in that truly makes it great. We are overflowing with gratitude for the years of support our community has shown FHES. Together, we will continue to help shape and secure a better future for our students. This is the island way - we love our kids, our school and we put our money where our mouths are! Let's do this!

*As with any donation to FHES PTO, these are tax-deductible donations. A receipt with our Tax ID number will be sent at the end of the transaction on Deposit A Gift. Thank you for your support.
Click here to support our PTO Fundraiser
---