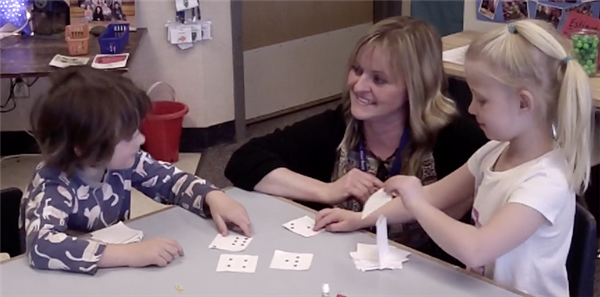 Phone: 360-370-7315
Email:
Degrees and Certifications:
BA Early Childhood Education and Family Studies, University of Washington Masters in Teaching, City University of Seattle
Miss

Rice

ABOUT ME

I began teaching preschool in 2011 on San Juan Island and teaching at the elementary school has been a dream of mine. I began teaching kindergarten in 2017. I also coordinate The Kindergarten Transition Program through The Family Resource Center during the summer months. I get the honor and privilege to inspire students to love learning, reading, writing, art, science, math, a variety of cultures, and so much more!

PHILOSOPHY OF EDUCATION

A healthy, nurturing learning environment maximizes a child's development. Supportive interactions and challenging experiences offer healthy child development. My goal for all students is that they reach their potential and feel supported in their academic experiences.

Children learn best through hands-on experience and the use of their senses. Real learning means that a subject has been explored, understood, and experienced in a tangible way.

Learning occurs differently for each individual child. "Children have different learning styles, needs, capacities, interests, and backgrounds. By recognizing these differences and using instructional approaches that are appropriate for each child, teachers and staff help all children learn" (NAEYC). Through careful assessment and observation, I am able to recognize each child's individual needs.

Family collaboration is a key to a child's success. "When parents are involved in school, their children's achievement improves." (Kersey & Masterson, 2009). It is my role to connect with families and to build strong, trusting relationships to support my students.

Culture plays an important role in the lives of children. In knowing my student's culture or their family's views, I am better able to understand behaviors and to work together as a team for student achievement. Children from diverse backgrounds offer a wide range of learning experiences.

It is through professional leadership roles that learning begins in the classroom. While teaching, I have a purpose to display a positive and professional identity, and to show leadership skills of honesty, creativity, commitment, care, passion, curiosity, confidence, and cooperation. I aim to connect my teachings and attitudes to professional standards and ethics, and advocate for each child I am responsible for.

PHILOSOPHY OF CLASSROOM MANAGEMENT

Providing positive feedback and reinforcements supports student's success and encourages participation.

A healthy, nurturing learning environment maximizes development.

Rules are created together and reviewed to ensure a successful, respectful, and safe community of learners.

When students are displaying challenging behaviors, they are typically not engaged in learning. Each child is supported and interests are built upon.

All students have the right to learn and feel safe in the classroom. When a student if displaying challenging behaviors, positive reinforcement will be the goal of success. If positive reinforcement is unsuccessful, interventions will be used and I will strive to find successful accommodations.